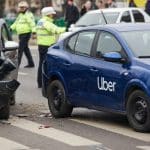 Uber, Lyft, and other rideshare companies changed the transportation industry when they launched in the early 2010s. These services offer riders a convenient option to get around, but what happens if you are injured in an Uber or Lyft accident? Who pays?
In this article, find out about the next steps if you were in an Uber or Lyft accident with injuries. If you have questions about your case, our Detroit car accident lawyers at Ravid & Associates can help you.
Why Do Rideshare Accidents Happen?
Like any other car accidents, accidents involving Uber and Lyft drivers happen for many reasons:
Speeding
Distracted driving
DUI
Inexperienced driving
Fatigued driving
Reckless driving
There is also a common rideshare practice called 'deadheading,' where the driver simply drives aimlessly in an area where fares may occur. When a driver is looking for a passenger, they could be distracted and get into an accident.
Michigan Is Now A No-Fault Accident State
When considering the next steps after a rideshare accident, you should remember that Michigan recently changed its laws and revised its no-fault state auto laws. This provides each accident victim has a guarantee of certain insurance benefits, regardless of who was at fault. Someone hurt in a Michigan car accident, including a rideshare accident, can have both personal protection insurance benefits and a liability claim (in certain instances).
Under the new Michigan law, each injured party can receive limited medical and rehabilitation expenses, three-year wage loss benefits, and replacement service costs. If your excess economic and non-economic losses are above your no-fault insurance benefits, you can also file a personal injury lawsuit against the at-fault party.
If you are injured in a rideshare accident, just remember that your no-fault insurance will typically pay your initial benefits. But if your injuries and other damages exceed your coverage, you and your attorney will consider additional legal options.
Uber And Lyft Rideshare Company Insurance
Before rideshare companies started, all drivers on American roads were personal or commercial. If you wanted a ride, you would pay for a cab, or ride with a friend or family member. Most commercial cab drivers have work vehicles and pay for commercial auto insurance. A personal auto insurance policy does not cover a driver driving a passenger for money.
Rideshare drivers for Uber and Lyft are between personal and commercial drivers. Uber and Lyft say that their drivers are not employees but are independent contractors who drive customers in private vehicles. A Lyft driver may use his car to take his kids to school in the morning, turn on the Lyft app, and pick up paying customers for most of the day. Then, he might pick up the kids from school and get takeout for the family dinner.
At the beginning of the rideshare era, Uber and Lyft did not have driver insurance coverage. Most had personal auto insurance policies that would not cover them when they had fares. This began to change when an Uber driver killed a pedestrian in San Francisco. The grieving family sued Uber for wrongful death, which led rideshare companies to purchase commercial auto insurance.
Today, Uber and Lyft drivers must have personal auto coverage, and commercial auto coverage may kick in when drivers are working. Which policy pays for what and when depends on the situation. Below are several common scenarios.
When The Rideshare Driver Caused The Accident
As of 2022, if you are hit by an Uber or Lyft driver waiting for a fare, the rideshare company's liability insurance operates to protect passengers negligently injured by a ride-share driver's negligence.
If you were hurt by an Uber or Lyft driver when they were picking someone up or transporting a passenger, the company offers up to $1 million in liability protection. In some cases, Uber and Lyft offer uninsured and underinsured coverage, depending on the state.
If you were hurt by an Uber or Lyft driver not using the rideshare app when the accident happened, you may only file the claim on the driver's personal insurance policy. Your car accident attorney can subpoena cell phone records to determine if the driver was using the app when the accident happened.
When The Other Driver Caused The Accident
As noted earlier, Michigan is a no-fault state, so if you are a passenger in a rideshare vehicle and another vehicle injures you, you would typically file a claim with your insurance company. You may file a claim or lawsuit with the other party's insurance provider or from a state fund carrier assignment in limited circumstances.
Can You File A Lawsuit Against Uber Or Lyft?
If you were hurt in an Uber or Lyft accident, you might want to know if you can sue the company directly. Rideshare companies have more money at their disposal than most private parties.
But filing a lawsuit against Uber or Lyft is challenging. These companies classify their drivers as contractors, so they are not employees. Entities are more likely to be held liable for injuries when their employees are negligent. However, you could decide to file a suit against a rideshare company in limited cases, such as:
When your injuries and other damages exceed your driver's personal auto policy
An Uber or Lyft driver assaulted you
You believe Uber or Lyft was reckless in training, hiring, or retaining the driver who injured you
How Long Do You Have To File A Car Accident Lawsuit?
Whether the at-fault party was a rideshare driver or a private party, you have only a limited time to file a personal injury lawsuit in Michigan. The statute of limitations to file a lawsuit is three years from the date of the injury.
Contact Our Detroit Car Accident Lawyers Today
If you are in an accident using Uber or Lyft, understand that these claims and lawsuits are usually more complex than typical accident claims. When you think the rideshare company should pay for your damages, it will help to have an attorney answer your questions. Contact our Detroit car accident lawyers at Ravid & Associates. We can help with your case, so please call (248) 963-1719.
---