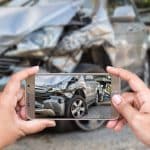 Too many people in Michigan are hurt in preventable auto accidents every day. In most of these crashes, someone's negligence or carelessness led to the mishap. If liability can be proven for the accident, the injured person could receive compensation for their injuries, lost earnings, and pain and suffering.
Obtaining compensation, however, is easier said than done. Following specific steps to document an auto accident is critical to winning your case. Use the information in this article to document your auto accident so you can receive the best settlement. If you need assistance with your car accident case, our Detroit car accident attorneys at Ravid & Associates have decades of successful legal experience and are ready to fight for you.
Why Does Auto Accident Evidence Matter?
In most Detroit car accidents, the plaintiff and defendant will offer conflicting stories about what happened. The liable party or their insurance company may dispute your account of the crash to avoid paying a settlement. Also, the insurance company may challenge the damages you claim. For instance, the defendant may cast doubt on the extent of your injuries or the amount of lost earnings you have.
Car accident victims have the burden of proof to show that another party was at fault and they suffered losses because of the incident. Damages to which you could be entitled include medical bills, lost earnings, pain, suffering, and disability. However, you must prove your case by a preponderance of the evidence, which requires careful and thorough documentation.
Evidence Related To The Auto Accident
First, you need to offer complete evidence about how the auto accident happened, such as the vehicles involved, where each was going, who was at fault, and where the accident occurred. This accident documentation information can come in many forms, such as pictures, witness statements, video, and reports from law enforcement. If all of the following evidence seems overwhelming, do not be alarmed: Our Detroit auto accident attorneys at Ravid & Associates will assist with gathering this critical evidence:
Photos
After the accident, take as many photos as you can. Some of the things you should photograph are:
External damage to all vehicles in the accident
Where the accident happened and the general surroundings
Road signs or traffic signals
Internal damage to your car
Vehicle positions after the crash
Lighting and weather conditions
Any icy or wet road conditions present
Any skid marks or scattered vehicle debris
Any visible injuries you have
Eyewitness Testimony
Obtain their contact information and names if there were witnesses to the accident. When law enforcement arrives at the scene, tell them who the witnesses are so they can get their official statements. If there is a car accident lawsuit, eyewitness testimony can be compelling evidence that back up your version of what happened.
Law Enforcement Report
Law enforcement officers called to the accident scene will fill out a police report and should give you a copy. Your insurance company will need this information to process your claim. Your Ravid & Associates car accident attorney will also get a copy of the report to back your version of events. While the police report may not be admissible in court, it still can have important information that can benefit settlement negotiations.
Vehicle Black Box Data
Many automobiles are equipped with event data recorders, also called black boxes. These devices often contain important information that can be used to analyze how an accident happened. For instance, the black box could include information such as throttle speed, airbag deployment, brake application, steering angles, and vehicle and engine speed. Your attorney will help to collect this vital information that could be important to your claim or lawsuit.
Evidence Documenting Your Damages
It is insufficient to show that another driver caused the accident. You also must prove that you suffered harm and losses because of the other driver's negligence. This evidence usually consists of some or all of the following:
Medical Records
You need thorough medical records to prove that your injuries are related to the accident. For instance, your medical records may include ER treatments, physician visits, surgeries, hospitalizations, and physical therapy.
Expert Witness Statements
Your car accident attorney may rely on expert testimony from doctors or other professionals to relate the extent of your injuries and how they affect your life. The testimony of expert witnesses is essential to determine the value of your case.
Pain And Suffering Evidence
Pain and suffering damages frequently comprise most of a car crash settlement. It can be challenging to place a dollar amount on pain and suffering, but it is critical to show how the accident has affected your life. Your car accident attorney will play an integral part in documenting how your life has been affected, such as chronic pain and emotional trauma from the injuries. Also, if your accident injuries have affected your family members, more compensation could be in order.
More Steps To Win Your Car Accident Case
Assembling the above evidence will play a vital role in a successful car accident claim or lawsuit. There are other things that you should and should not do to increase the chances of a significant settlement or verdict award:
Stay at the crash scene and only leave once instructed by police.
Call 911 and request an ambulance for anyone who is injured.
Call the police to the crash scene even if you think no one is injured.
Only sign legal documents with your attorney present.
Do not talk to other drivers about the accident.
Do not apologize for the accident to anyone at the scene.
Hire Our Detroit Car Accident Attorneys To Represent You
The Detroit car accident attorneys at Ravid & Associates have been assisting car accident victims like you for years. Our attorneys will give your case the personal legal attention it needs for a successful outcome and can help you document your accident and injuries. Whether you have suffered minor or more severe injuries, you deserve maximum compensation when another party was at fault for your accident. Call our Detroit car accident attorneys today at (248) 948-9696 for a consultation.
---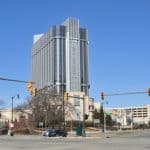 Most people in Detroit get around by car, but there are many severe accidents in the city daily, and sometimes they are fatal. Some of the most serious accidents happen in busy Detroit intersections – of the 24,687 auto accidents in the city in 2017, 10,288 happened in intersections, and more than 80% of those were freeway intersections.
Below is detailed information about the most dangerous intersections in the city, and you have been hurt in a car accident, speak to our Detroit car accident attorneys for assistance.
Gratiot Avenue
The year 2021 saw dozens of serious car accidents at Gratiot Avenue and Conner Street. Many of these crashes left people with injuries. Gratiot Avenue is situated in one of the country's most dangerous zip codes.
Unfortunately, Gratiot Avenue is dangerous for both pedestrians and drivers. People living in the area say the road is similar to driving on a highway because people drive so fast. Speeding is one of the most common causes of fatal car accidents nationwide.
Conant Street And East Davison Street
One of the deadliest intersections in Michigan is Conant Street and East Davison Street. Many deadly accidents happened there in 2021, many of them because of drunk driving. If a drunk driver hurts you, there could be criminal and civil liability, so speak to a car accident attorney.
Linwood Street and West Davison Street
Linwood Street often has poorly maintained roads and sidewalks, making it more hazardous for drivers and pedestrians. A broken fire hydrant making a five-foot-deep divot in the road was not repaired for months. This caused many damaged vehicles and accidents. If you can file a claim for your losses, you might be able to file a claim against the local government for your losses.
Greenville Road And 7 Mile Road
In December 2022, several cars on Greenfield Road and 7 Mile Road were observed by police to be drifting. This is making a motor vehicle slide through a turn with the front of the car pointed in the opposite direction of the turn. The cars did several donuts and other reckless actions, including turning the vehicles in tight circles and stomping on the gas.
This is dangerous driving behavior that happens in more Detroit intersections and roads. No one was injured in this incident, but if you see drifting and other reckless driving actions, call the police immediately.
More Dangerous Detroit Intersections – Crash Statistics
Other intersections in the city are hazardous. Here are crash statistics for some of the most dangerous ones:
11 Mile Road, I-696, and Van Dyke Avenue – 194 auto accidents
18.5 Mile Road and Van Dyke Avenue – 165 auto accidents
Telegraph Road and 12 Mile Road – 150 auto accidents
Schoolcraft Road and Telegraph Road – 112 auto accidents
Orchard Lake Road and 14 Mile Road – 144 auto accidents
I-75 and Big Beaver Road – 120 auto accidents
Ford Road and Lilley Road – 109 auto accidents
What Makes Some Intersections More Hazardous?
There are many factors that make some Detroit intersections more dangerous than others:
More cars in less space: If you drive on a busy road and through chaotic intersections in Detroit, one wrong move by a driver can cause a chain reaction accident. If there are multiple injured parties and serious injuries, the no-fault auto insurance required in Michigan might not be enough to cover your damages.
Aggressive driving: People driving in traffic tend to be more aggressive, leading to speeding and running red lights, among other aggressive behavior. Many severe accidents happen in busy Detroit intersections when one last driver tries to get through when the light turns red.
Not understanding driving laws: Recent crash statistics in Detroit showed that about 25% of auto accidents in intersections involve drivers from 15-24. These are inexperienced drivers who may not understand right-of-way and other traffic laws.
Distracted driving: As mobile phones have become commonplace, more drivers are driving distracted, taking text messages, and surfing the Internet when driving. This is against the law in Michigan, and needless to say, is dangerous behavior in busy Detroit traffic.
How To Avoid Car Accidents In Detroit
There are at least 6 million car accidents in the US annually, and many are in Detroit. Some accidents can be avoided by following these principles:
Intersections
At least 50% of auto accidents happen in intersections. There are several things to keep in mind when going through Detroit intersections:
Do not accelerate through an intersection because it increases reaction times if something unexpected happens, such as a driver running the light.
Do not hit the gas when there is a yellow light. You should only go through a yellow if you do not have enough time to stop safely.
Avoid intersections with no left turn arrow if you can. The more times you must judge oncoming traffic to make the left turn safely, the greater the chances of an accident.
Trust
This means you should not trust that other drivers will act prudently. They may not make a wise decision, so follow these tips:
You should not be in a position where an accident is avoided because the other driver acted. If you are at other drivers' will on the road, the chances of accidents rise. For example, if you change into the left lane because the right is slowing down, assume another driver in the right lane might pull out suddenly.
Do not follow the driver in front of you too closely. You do not know when a driver ahead will hit the brakes.
Speed
More car accidents happen because of speeding than any other cause. So, remember these guidelines:
On the highway, slower traffic is usually on the right. While often slower, driving in the right lane is safer than in higher-speed lanes.
Keep to the speed limit. Driving already takes a lot of concentration and skill, and speeding only makes it harder and more hazardous.
Contact Our Detroit Car Accident Attorneys Today
Detroit has its share of hazardous intersections, and if you were hurt in a car accident, you probably need help with your medical bills and other expenses. Please contact our Detroit car accident attorneys at Ravid & Associates, P.C., at (248) 948-9896 for a free legal consultation.
---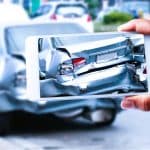 The damages and losses suffered after a Detroit car accident can threaten your livelihood and family. Plus, the no-fault laws in Michigan can make it difficult to obtain proper compensation, but having a car accident lawyer can help. Learn about Detroit and Michigan car accident statistics and related information below, and speak to our Detroit car accident attorneys if you have a case.
Too Many Serious And Fatal Auto Accidents In Detroit
A report entitled Detroit Comprehensive Safety Action Plan was released in 2022 and had many sobering statistics about the city's serious and fatal car accidents. As of 2020, the city's auto accident fatality rate per capita was #2 among America's largest cities, and the pedestrian death rate was #3.
The report states that about 108 people died in traffic crashes annually in Detroit between 2017 and 2021. The fatal wreck average in Detroit continued to rise steadily and climbed significantly during the pandemic, outpacing many other large cities in the country. Also, the overall number of Detroit residents seriously injured or killed in auto accidents rose 47% from 2014 to 2021.
Between 2019 and 2020, traffic deaths on Detroit's local roads increased from 94 to 150, which was a startling 50% increase in only a year, which far eclipses the national trend. With 150 fatalities, 2020 was the worst year on Detroit roads since 2004. Fortunately, fatalities fell to 123 in 2021, a 31% increase from 2019.
The report continues that compared to other large US cities, Detroit is an outlier. It is at the top of the list for overall crash deaths per capita and pedestrian deaths per capita, as of 2020. In 2020, Detroit had 28.71 deaths per 100,000 people and 6.16 pedestrian deaths per 100,000 people, which ranks second and third, respectively, for US cities with at least a 500,000 population.
Michigan Auto Accident Facts And Statistics
In Michigan, there is approximately one death annually for every 100,000 residents, which is one of the worst rates in the entire country. Also, recent crash statistics show that Michigan traffic fatalities hit a 16-year peak in 2021. Here are some unsettling facts about car accidents in Michigan:
Fatal Car Accidents High In Michigan
If you live in Detroit or Michigan, be aware that 40% of all accidents in the state kill someone every year. This is not as many as in big states such as Texas or California, but Michigan is #2 only to Florida, where 33% of all car accidents kill someone annually.
Michigan Is #2 On Deadly Accidents Per Mile
Michigan drivers often face heavy traffic, especially in the Detroit metro area. Unfortunately, Michigan is second in the nation for the most fatal accidents per mile. This number is determined by dividing the number of auto accidents that killed someone by the miles driven by the average Michigan driver in 2014. So, while Michigan has fewer deadly crashes, they are often more severe and deadly.
Detroit Is The Deadliest In The State For Car Accidents
Like any large city, Detroit has many fatal car accidents, where the most fatal crashes happen in the state. Also, the number of deadly collisions in Detroit has risen for many years.
Winter Months Have The Most Fatal Accidents
Plenty of snow and ice in winter leads to more severe and fatal crashes across Michigan. This is why many people leave Michigan in the winter for sunnier climates and return in the spring.
What To Do After A Detroit Car Accident
The numbers indicate that too many serious and fatal auto accidents happen in Detroit and Michigan. Unfortunately, serious accidents are rising in Detroit, often due to speeding, running red lights, DUI, texting and driving, and even drag racing. If you have been in a car accident in Detroit, there are several actions you should take:
Stop Immediately
No one wants to be hassled with a car accident, but stop your vehicle immediately if it happens. Whether it is a major wreck or a minor fender-bender, you and the other drivers should immediately stop and remain at the scene. You may be charged with hit-and-run if you leave the crash scene.
Move Your Car To The Side Of The Road
After a crash on a busy Detroit road, vehicles may block traffic, leading to more accidents. Move your car to the side of the street so other cars can safely pass. Move to a safe location away from traffic and wait for the police.
Call 911
After a crash, people can get emotional and stressed. It is best to call 911 in all cases so that the police and first responders come to the scene to assess the situation and treat the injured. Having professionals at the accident scene can defuse arguments, and the police report could be a critical piece of information for a claim.
Document The Crash Scene
One of the critical reasons to hire a car accident attorney is they will investigate the crash to find out who caused it. If your at-fault insurance benefits do not cover your damages, it could be possible to file a claim against the other driver. This means proving liability could be critical. Your attorney will investigate what happened, but you can help them by collecting evidence after the crash.
For example, take pictures of all vehicles in the wreck, including their positions on the road. If the crash happened in an intersection, take wide-angle shots that show the entire crash scene. Also, take photos or video road signs, visible car damages, and any injuries you or your passengers have.
Get Medical Treatment
A medical professional should always see you to check for injuries. Even a 'minor' injury could flare up into something serious a day or two later. Delaying medical treatment is a common reason an insurance company denies a claim.
Contact Our Detroit Car Accident Lawyers Now
Were you seriously injured recently in a Detroit car accident? Even with the state's no-fault laws, you could be eligible for damages in a lawsuit in limited circumstances. Please contact our Detroit car accident attorneys at Ravid & Associates, P.C., at (248) 948-9896 for a consultation.
---