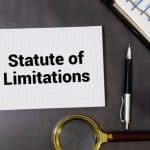 You may want to file a personal injury lawsuit when you have a possible claim in Michigan because of an accident caused by someone else's conduct. If so, it is vital to understand the statute of limitations for this type of case. This article details the Michigan statute of limitations for personal injury claims. If you have questions about a case, our Detroit personal injury lawyers at Ravid & Associates can answer them.
The Statute Of Limitations In Michigan
Michigan state law states that you have three years from the accident date to file a personal injury lawsuit. This means you have three years from the incident date to get the complaint filed in court. This three-year deadline applies to most personal injury lawsuits in Michigan, whether the case is caused by negligence.
If you miss the statute of limitations and try to file, the defendant will probably file a motion to dismiss the case. Unless there is a rare situation where you can get more time, the court will dismiss the case.
Michigan's personal injury statute of limitations is also essential if you are in settlement negotiations with the at-fault party's insurance company. You have lost leverage if the other party knows that the three-year deadline has expired. This is why retaining a personal injury attorney early in the process is vital. You want to give your attorney plenty of time to negotiate and have the unspoken possibility of a lawsuit in the background if negotiations do not bear fruit.
What Are Exceptions To The Michigan Statute Of Limitations?
Several exceptions may extend the statute of limitations for personal injury. Some examples that could change the timeline are:
If the injured party was insane when the accident occurred. In that case, they will have one year to file the personal injury lawsuit once they are no longer in that state of mind. Keep in mind that 'insane' according to the law means a condition of mental derangement that prevents you from understanding your rights. It is not dependent on if you were judicially declared insane.
If the injured party was under 18 when the accident happened. In that case, you will have one year to file the lawsuit after you turn 18.
If the person who caused the injury leaves the state after the accident, before the suit is filed, and is gone for more than 60 days. In that case, the period the defendant was gone probably will not be counted under the statute of limitations, assuming there is no way you can serve the defendant with the suit when they are absent.
Other Important Michigan Car Accident Laws
Now that we have covered the state's statute of limitations law, we will examine other important laws that could affect you in a car accident. If you have questions about any of them, your Detroit personal injury attorney can help.
No-Fault Car Accident Laws
Michigan recently became a no-fault car accident state. This means that an injured driver or passenger usually has to use their own personal injury protection insurance to obtain compensation for their medical bills, lost earnings, and related out-of-pocket expenses, regardless of fault. A claim against the at-fault driver is only possible in certain situations. You are required to have the following minimum no-fault coverage (you can pay for more coverage):
$50,000 per person injured or killed in a car accident
$100,000 per accident when more than one person is injured or killed
$10,000 per accident for property damage
Remember that you cannot receive pain and suffering damages with no-fault insurance. You would need to file a car accident lawsuit against the other driver to receive those damages. But that is only allowed in these situations:
The accident caused severe impairment of at least one bodily function, severe and permanent disfigurement, or death
The driver who caused the accident is a non-resident of Michigan, and the car is not insured in the state
The accident occurred in another state
The other person must have been at over 50% at fault.
If your incident meets any of these conditions, you may be able to file a third-party auto insurance claim or lawsuit. However, these cases are complex, and you should check with a car accident attorney to ensure you can file a third-party claim or suit.
Modified Comparative Negligence Law
Suppose you suffer a serious injury in a Michigan auto accident and file a lawsuit. The jury hears the evidence and decides that the other driver was at fault, but you were partially to blame, too. What now?
Michigan has a modified comparative negligence standard for car accidents. This means your percentage of fault reduces the damages you can recover in an auto accident lawsuit for the incident.
A critical consideration in the law is that if you were more than 50% at fault for the accident, not only are your economic damages reduced by the percentage of fault. You also cannot recover non-economic damages, which is pain and suffering. This is significant because pain and suffering can be substantial in a severe car accident.
You should hire a skilled auto accident attorney to fight for your rights if you think you were partially at fault for the car accident. The more you are found at fault for what happened, the less you may receive in a claim or lawsuit.
Suppose your auto accident injuries, pain and suffering are worth $50,000. If you are found 25% at fault, you would only get $37,500. But if you are found more than 50% at fault, you would nothing as pain and suffering damages are not allowed in that situation.
Contact Our Detroit Personal Injury Lawyer Today
Our Detroit personal injury lawyers at Ravid & Associates can help with your claim, so please contact our law firm at (248) 963-1719. Our attorneys possess over 180 years of combined litigation experience helping injured clients in Detroit and surrounding areas, and we can help you, as well.
---