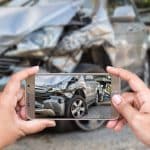 Too many people in Michigan are hurt in preventable auto accidents every day. In most of these crashes, someone's negligence or carelessness led to the mishap. If liability can be proven for the accident, the injured person could receive compensation for their injuries, lost earnings, and pain and suffering.
Obtaining compensation, however, is easier said than done. Following specific steps to document an auto accident is critical to winning your case. Use the information in this article to document your auto accident so you can receive the best settlement. If you need assistance with your car accident case, our Detroit car accident attorneys at Ravid & Associates have decades of successful legal experience and are ready to fight for you.
Why Does Auto Accident Evidence Matter?
In most Detroit car accidents, the plaintiff and defendant will offer conflicting stories about what happened. The liable party or their insurance company may dispute your account of the crash to avoid paying a settlement. Also, the insurance company may challenge the damages you claim. For instance, the defendant may cast doubt on the extent of your injuries or the amount of lost earnings you have.
Car accident victims have the burden of proof to show that another party was at fault and they suffered losses because of the incident. Damages to which you could be entitled include medical bills, lost earnings, pain, suffering, and disability. However, you must prove your case by a preponderance of the evidence, which requires careful and thorough documentation.
Evidence Related To The Auto Accident
First, you need to offer complete evidence about how the auto accident happened, such as the vehicles involved, where each was going, who was at fault, and where the accident occurred. This accident documentation information can come in many forms, such as pictures, witness statements, video, and reports from law enforcement. If all of the following evidence seems overwhelming, do not be alarmed: Our Detroit auto accident attorneys at Ravid & Associates will assist with gathering this critical evidence:
Photos
After the accident, take as many photos as you can. Some of the things you should photograph are:
External damage to all vehicles in the accident
Where the accident happened and the general surroundings
Road signs or traffic signals
Internal damage to your car
Vehicle positions after the crash
Lighting and weather conditions
Any icy or wet road conditions present
Any skid marks or scattered vehicle debris
Any visible injuries you have
Eyewitness Testimony
Obtain their contact information and names if there were witnesses to the accident. When law enforcement arrives at the scene, tell them who the witnesses are so they can get their official statements. If there is a car accident lawsuit, eyewitness testimony can be compelling evidence that back up your version of what happened.
Law Enforcement Report
Law enforcement officers called to the accident scene will fill out a police report and should give you a copy. Your insurance company will need this information to process your claim. Your Ravid & Associates car accident attorney will also get a copy of the report to back your version of events. While the police report may not be admissible in court, it still can have important information that can benefit settlement negotiations.
Vehicle Black Box Data
Many automobiles are equipped with event data recorders, also called black boxes. These devices often contain important information that can be used to analyze how an accident happened. For instance, the black box could include information such as throttle speed, airbag deployment, brake application, steering angles, and vehicle and engine speed. Your attorney will help to collect this vital information that could be important to your claim or lawsuit.
Evidence Documenting Your Damages
It is insufficient to show that another driver caused the accident. You also must prove that you suffered harm and losses because of the other driver's negligence. This evidence usually consists of some or all of the following:
Medical Records
You need thorough medical records to prove that your injuries are related to the accident. For instance, your medical records may include ER treatments, physician visits, surgeries, hospitalizations, and physical therapy.
Expert Witness Statements
Your car accident attorney may rely on expert testimony from doctors or other professionals to relate the extent of your injuries and how they affect your life. The testimony of expert witnesses is essential to determine the value of your case.
Pain And Suffering Evidence
Pain and suffering damages frequently comprise most of a car crash settlement. It can be challenging to place a dollar amount on pain and suffering, but it is critical to show how the accident has affected your life. Your car accident attorney will play an integral part in documenting how your life has been affected, such as chronic pain and emotional trauma from the injuries. Also, if your accident injuries have affected your family members, more compensation could be in order.
More Steps To Win Your Car Accident Case
Assembling the above evidence will play a vital role in a successful car accident claim or lawsuit. There are other things that you should and should not do to increase the chances of a significant settlement or verdict award:
Stay at the crash scene and only leave once instructed by police.
Call 911 and request an ambulance for anyone who is injured.
Call the police to the crash scene even if you think no one is injured.
Only sign legal documents with your attorney present.
Do not talk to other drivers about the accident.
Do not apologize for the accident to anyone at the scene.
Hire Our Detroit Car Accident Attorneys To Represent You
The Detroit car accident attorneys at Ravid & Associates have been assisting car accident victims like you for years. Our attorneys will give your case the personal legal attention it needs for a successful outcome and can help you document your accident and injuries. Whether you have suffered minor or more severe injuries, you deserve maximum compensation when another party was at fault for your accident. Call our Detroit car accident attorneys today at (248) 948-9696 for a consultation.
---